EAST-WEST WISDOM & DIVINATION CONFERENCE
AyurVedic Healing for Challenging times
Divine Vedic Essences & Astrological Lodge of London
Sunday 3 November 2019
Speakers Wanda Sellar, Marcos Patchett, Prashant Trivedi, Advait Tripathi & Others

Difficult and challenging transits reflect what is already promised in our natal birth chart. Caught in the grip of the Nodal Axis or the Sarpa Yoga? Saturn traversing your rising sign? Build-up of malefics affecting your Moon? How does one concretely deal with above scenarios? There are some key techniques, dietary change and lifestyle choices that can be followed to be able to flow in these challenging times so we can embrace what they are asking of us. We can be aware of what these negative energies demand of us and thus begin to work creatively with it. Rather than be engulfed with myriad of chronic health issues to a mental breakdown to possibly a mild low grade depression, (silent killer), What one resists, always persists. Hence awareness through Divine Knowledge will see us through these difficult times.
This two-day conference on Ayurveda, Pulse diagnosis, right diet in keeping with your body type Dosha, specfic practises to do with your Vedic Sun and Moon signs and various other insights using Western Herbalism, Vedic Astrology and Ayurveda. Through knowledge from ancient times, can we can find our inner space and calm and not be thrown off-balance over times of upheaval.
The Theosophical Society in England
50 Gloucester Place
London W1U 8EA
——————————– PAYMENTS HERE ————————–
Sun 3rd November 2019
Members £ 55 Non-members £ 60
Please Add a Note in Paypal with your name and what event it is for.
ABOUT THE SPEAKERS :
WANDA SELLAR
THE HOUSES: Medical and Spiritual
This would describe how our physical life can reflect our spiritual challenges.
MARCOS PRACHETT
Adversity and Alchemy: Remedying Difficult Directions
Using plants, potions, rituals and remedies to mitigate adverse transits and directions: Saturn, the Nodes, Mars and the outer planets.
PRASH TRIVEDI
Prash Trivedi is one of the world's foremost authorities on Jyotish. His ancestry includes notable Sanskrit scholars, writers, astrologers and Ayurvedic practitioners. From a very young age he was surrounded by ancient Vedic mythology & cosmology.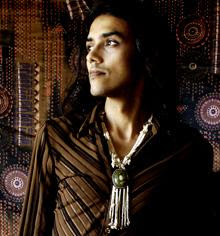 He pursued his higher education at the prestigious Indian Institute of Technology, New Delhi. After completing his degree, he received an invitation to undertake a spiritual pilgrimage to meet the Elders of the Hopi native American Indian tribe of Arizona. Journey page
He returned to India and in 2000 wrote his first book on Vedic Astrology ~ "The Key of Life – Astrology of the Lunar Nodes" . This work has been recognised by experts all over the world as being the most informative work on the lunar nodes (Rahu & Ketu) till date.
In November 2000 in New York he formed the Orion School & Foundation For Astrology .
In March 2001 he appeared on London's BBC Radio and the Breakfast Show on Channel Five to discuss the benefits of Vedic Astrology and highlight the argument against the popular Sun-Sign astrology.
His second book "Sun – The Cosmic Powerhouse" was published in 2002 and coincided with his appearance on "The Laura Lee Show", California.
Prash's next offering was a comprehensive illustrated work on the 27 Nakshatras (Lunar Mansions). It has been released under the title "The 27 Celestial portals" in the west and "The Book of Nakshatras" in India.
Dr. Vaidya Adwait Tripahi
Vaidya dr. Adwait Tripathi belongs to highly Brahmin familywhich comes from traditional lineage of ayurvedic doctors. Ayurvedic history of his family is legendary.
In his age of 4 years to age of 10 years he spent his childhood with blessings of Maharishi Mahesh Yogi Ji. His father brought him there and he raised up to hold hand of his father's grandfather who took him to Maharishi Mahesh Yogi Ji's house. There he was blessed to see and touch his feet during 1985. In 1987 he had his own yagopavit sankar where Maharishi Ji personally blessed him. So, his childhood he spent to see and touch the feet of great person, in his age of 4yrs to 10yrs, and then Maharshi Ji moved to Vlodrop, Holland.
His schooling was like vedic student in Maharishi Vidya Mandir school where he learned yoga, meditation, siddhis – it was great period of his life.
After his studies he get admission in government approved college of Ayureda in Muzzaffarpur Bihar from 2002 to 2009 where he done complete ayurvedic studying.
His grandfather's – father, name Pandit lallu lal Sharma, was great Jyotishi (astrologer) and vaidya; during the time in bundela empire, he has been rewarded as Rajya jyotishi and vaidya (Jyotish and Ayurveda were the foundation and linage of his family). He has been very famous as jyotishi and vaidya there in that time.
Then his grandfather, name Pandit Rudrapratap Sharma (Tripathi) was active and great jyotishi and vaidya, who had open many schools in the back word remote area and done many huge social work and had open recognized own ayurveda college in 1970s. He had done huge great work for society and poor people, and had successfully running school of 1.200 students. He had given donation to Indian government for opening school (name of school is Akhand Vidyalaya); today it is the best school of Adwait's birth town Kabrai (Mahoba), and his grandfather is the founder of that school, where with great respect still his big pictures are in school office.
Along with it many poor children he adopted and provided them schooling, and they became successful judges and layers in India. During 1980s to the invitation of Maharishi Mahesh Yogi Ji Adwaut's grandfather moved to Noida Maharishi Nagar where he was appointed as senior vaidya and he got responsibility of ras shala (for prepration of medicines and rasayanas in ayurveda) where he has been introduced to Triguna Ji, and they done successful work over there.
After 5 years he has been invited Adwait's father vaidya Achyut Kumar Tripathi in his young age, who has very bold and honestly nature. Maharishi Mahesh Yogi ji personally was giving him responsibility as administrative officer to see and take and organize camp, vaidya trainings, maharishi product trainings, pulse diagnose trainings, appoint of vaidyas to various health centers in the world, so all those vaidya people from India to various part of world during 1985 to 2000 were sent and appointed by channel of Adwait's father during his work.
Then he got the responsibility as editor while writing the book of Triguna Ji's biography, what was inauguraled by the President of India. During the time of the book editing he spent much time with Triguna Ji and received much of Triguna Ji's knowledge and work experiences, and during that time they become very close to each other. In that period Triguna Ji suggested Adwait's father to give little time to Indian government, so his father provided entrance in rastriya vidya petha (branch of ayurveda in Indian government) and it was blessing of Triguna Ji. That step gave milestone to Adwait's father after what he was not limited only to Maharishi Nagar, he came in Indian level and from that moment until today Adwait and his father and their work are blessed from Triguna ji, who was like Adwait's grandfather – Adwait raised up with him.
Today Adwait's father is one of 15 vaidyas across India who had given their lives for service of Ayurveda, governing body member of rav.
You can see in link below about 15vaidyas in India, (official website about Indian government institution for ayurveda) where you can see Adwait's father name:

http://ravdelhi.nic.in/index1.asp?linkid=348&langid=1
Adwait Tripathi specializes in darshan pariskhan, long distance healing. He guide about the best treatment in Ayurveda along with diet, yoga, and pancha karma. He offers to his patients many health yagyas as great cure.
Many people across the world visit him to have pulse diagnostic or study Ayurveda.
Along with ayurveda study, due to having lineage and tradition of ayurveda, he wrote many blogs and articles, worked with his father and regularly visited Triguna Ji and spent time with him (until he died).Today Adwait is running his own clinic Arogya Sadnam (www.arogyasadnam.com) in Noida – India, and also doing much work all over the Europe and whole world. Once a year he is visiting Bulgeria, in organization of Foundation Devam by Mauna Kaushik, for giving Ayurvedic consultaions, pulse diagnostic and ayurvedic workshops. 3 times per year he is coming to Porec – Croatia, where he has his branch in Health Center Harmony. There together with his soul sister Conny Peto Denes (transpersonal psychologist & modern healer), he is running great health project Holistic Cures, for helping people in holistic way. In Porec – Istria – Croatia people can come for many holistic treatments, where is joined traditional ayurvedic knowledge with modern western knowledge (based on quantum medicine and psychology). Holistic Cures has also its branch in UK.
Adwait's main motive in life is – to love all, serve all, care of all.
Except his ayurvedic work, he is leading group of Vedic pundits with name Yagya Anusthan. This group of Vedic Pundits together with his Ayurvedic stuff is making Vedic Cure Team.